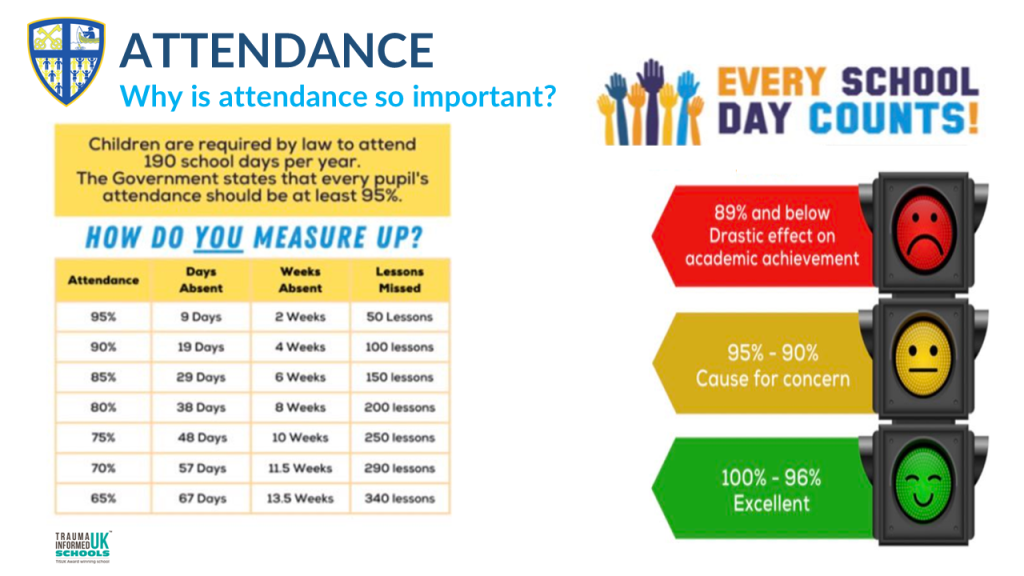 We want our children to enjoy coming to school. Our school attendance target is 96%, but we strive to achieve 100%. Extensive research has proven that there is a high correlation between school attendance and academic performance and success. Absence from school is often the greatest single cause of poor performance and achievement.
It is important to have a good education as a foundation to enhance opportunities available to you in adult life. 
Why is it so important to attend every day?
Learning is a progressive activity; each day's lessons build upon those of the previous day(s).

Reading the material and completing work independently does not compensate for direct interaction with the teacher and other pupils.

Many classes use discussions, demonstrations, experiments and participation as part of the daily learning activities, and these cannot be made up by those who are absent.

Pupils with good attendance records generally achieve higher grades and enjoy school more.

Having a good education will help to give your child the best possible start in life.

Regular school attendance patterns encourage the development of other responsible patterns of behaviour.

Setting good attendance patterns will also help your child later on. Employers want to recruit people who are reliable. 
What are the risks of frequent absences?
A child who does not attend school regularly will be unlikely to keep up with the work which means they will not make as much academic progress as they could.
Pupils will miss out on social interactions with their friends. Poor attendance can affect children's ability to make and keep friendships, a vital part of growing up.
Pupils will miss out on opportunities such as clubs, educational visits and wider experiences.
What can parents do to help?
Parents should model the value of education, including the importance of regular attendance.

Make sure that your child goes to school regularly and arrives on time-you will establish a good habit that they will carry through life.

Ensure their child attends every day the school is open except when a statutory reason applies

Notify the school as soon as possible when their child has to be unexpectedly absent (e.g. sickness)

Only request leave of absence in exceptional circumstances and do so in advance following the school's procedure.

Book any medical appointments around the school day where possible.

Work with the school and Local Authority to help them understand their child's barriers to attendance.

Proactively engage with the support offered by school staff and the Local Authority.
If you would like an appointment for support in improving your child's attendance, please contact school office and ask to speak to a member of the Pastoral Team. 
Our Attendance Team is:
Mrs S Dring, Acting Deputy Headteacher 
Mrs L Aaron, Pastoral Worker: Safeguarding 
Miss K Baron, Pastoral Worker: Behaviour 
To report absence, contact school on: 01942 671442
If you have concerns about your child's attendance and require support, please phone school and request to speak to Miss K Baron. 
If you have any queries about the Attendance Policy or have enquiries about the law relating to school attendance, please contact Mrs S Dring, Acting Deputy Headteacher. 
Our Attendance Policy can be found within the policy section on this website or alternatively if you would like to receive a hard copy please email as above.
If you need to request absence for an exceptional circumstance, please complete an 'Absences request form'. These are available from the school Office, or a copy can be downloaded here: Absence Request Form
More information on how attendance is managed in Wigan can be found here:Local Authority Attendance information
Attendance celebrations and achievements
Attendance is central to raising standards and ensuring children can reach their full potential. We reward and praise children for prompt and good attendance, presenting certificates and organising class activities on a half termly basis. Children achieving 100% attendance for a whole term will be presented with a certificate during assembly and an opportunity to celebrate with the Attendance Team.
Termly RAG reports will be produced for parents and carers – Green 96% or above, Amber 90-95.9% and Red- below 90% along with an annual report at the end of the school year.  
All children who have 100% attendance at the end of the year will receive a certificate and be placed into a draw to win a voucher in recognition of their attendance.
Punctuality
The school gates open at 8:45am. Registration time starts at 8:50am, the school gates close promptly at 8:53am.  If a child arrives at school after these times, he/she will be deemed late.  Registers close promptly at 8:55 a.m. and arrival at school after this time, without prior approval or extenuating circumstances, will be recorded as an unauthorised absence.
School will inform you via letter if your child's punctuality is of concern. If no improvement is made then the escalation procedure will begin and persistent lateness to school may result in an Educational Penalty Notice being issued. (Please see Appendix 5 in the Attendance Policy)